Nice to Meet You
March 01, 2021 12:00 AM
Hey! I'm Julie, and I know I'm about 10--actually more like 20--years late to this blog party. A fact that wouldn't surprise anyone who knows me very well. While the cool kids were taking the internet by storm with their pithy blogs, I was a busy being a mom (and then a single mom) with a day job. Not any ordinary, boring desk job, though. I was a food editor at the nation's largest epicurean magazine.
That's right, I was senior food editor at Cooking Light and later at Southern Living. And while my responsibilities were many and varied, I was a prolific recipe developer. I created hundreds, maybe thousands, of recipes over the years. All kinds of recipes: savories, sweets, snacks, sandwiches, sides, soups...the list goes on. You name it, I've probably cooked it. And eaten it. Sometimes healthy. Sometimes not. But absolutely always delicious. My work and recipes have also appeared in Garden & Gun, Women's Health, Fine Cooking, Parade, Health, and the Atlanta Journal and Constitution, to name a few.
Before I landed my dream job working on the editorial side of a food magazine, I got to know the ropes of the biz side too. For several years, I traveled across the South and did two-hour-long live cooking shows in front of hundreds--sometimes thousands--of folks in the audience. We did lots of television appearances to promote the show too. (Translation: I know how to cook out of a hotel bathroom!) Come to think of it, maybe The Southern Living Cooking School was actually my dream job. Is it possible to have more than one dream? Let's say it is.
In fact, I got to live another of my dreams a few years ago when I wrote a cookbook, $10 Dinners: Delicious Dinners for a Family of Four that Don't Break the Bank. Here's a little photo of the cover: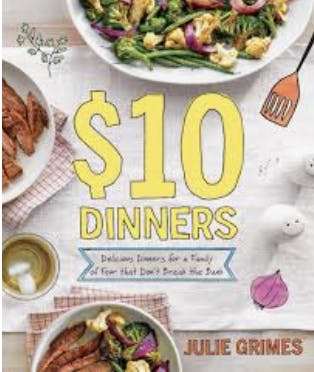 Now, I'm the chef and owner of Black Sheep Kitchen, a fresh homemade take-out food restaurant in Birmingham, AL. I cook every day and still develop recipes on the reg. I try to photo all of my creations and document them on Instagram mostly. If you don't already, I'd love it if you follow me: @the_blacksheepkitchen. And now everyone tells me I have to get on Tik Tok too. But I'm not a good dancer...
Anyway, as the name of my business implies, I'm the black sheep, literally the middle child ginger in my family. I don't follow all the rules and I most certainly dance to my own tune. I'm hoping to bring all of my life and career experience together in one place here. I'm gonna try a few new things with my business: Burger Subscription Box, anyone? And keep on doing the things we've always done well: Heirloom Tomato Pie, anyone? (Hells yeah to both, but more on those later.)
For now, let's just hang and get to know each other. Let's shop and cook together. If you don't like or want to cook, no prob. I'll cook for you. That's what I do. We can still trade kitchen tips and tricks. Maybe even dance a little on Tik Tok. Okay, maybe not. But I'll give it a whirl to cook on there--think anyone will watch? We can sip a bit of wine, tell some good stories, and celebrate life's little victories. I'm a good shoulder to cry on when times get tough too. (Uhm, can they get any tougher...I hope and pray not.) Anyway, this is a safe and judgement-free zone. All of the black sheep are welcome, so come on in friend.